Buckwheat pancakes with smoked salmon and citrus cream cheese
Buckwheat is a naturally gluten-free flour with a subtle nutty flavour that lends itself well to savoury pancakes. This thin, crêpe-like pancake recipe is perfect for stuffing with savoury fillings.
Ingredients
400ml/14fl oz dairy-free milk or apple juice
125g/4½oz buckwheat flour
40g/1½oz gram flour
1 tbsp cornflour
pinch salt
200g/7oz soya or regular cream cheese
1 lemon, juice and zest
rapeseed oil, for frying
200g/7oz smoked salmon
small bunch of chives, chopped
25g/1oz pumpkin seeds, toasted
1 tbsp caperberries, roughly chopped
Method
Step 1
Whisk together the dairy-free milk, flours, salt and 65ml/2¼fl oz water in a large bowl. Leave the mixture to rest for at least 1 hour.
Step 2
Meanwhile, mix the cream cheese, lemon juice and lemon zest together in a bowl. Beat until smooth and creamy then store in the fridge until ready to use.
Step 3
Heat a 20-25cm/8-10in non-stick frying pan over a medium heat until hot. Brush lightly with oil and pour in a little of the batter, swirling it around so that it forms a thin layer on the bottom of the pan. If the batter isn't thin enough you can add a little more liquid to the mixture.
Step 4
When the top of the pancake is dry (about 1 minute) flip the pancake and cook the other side for a further minute, the pancakes should colour just slightly. Repeat with the remaining batter. You can keep the cooked pancakes warm by wrapping in foil and placing in a low temperature oven.
Step 5
Spread a generous layer of cream cheese over the pancake and top with a slice of smoked salmon, chives, pumpkin seeds and caperberries. Roll the pancake to enclose the filling and serve.
Recipe Tips
You can make the gluten-free pancake batter the night before so that it is ready to use in the
How To Make the Best Pasta Salad Without Mayo
The Best Pasta for Pasta Salad
The best pasta for pasta salad isn't actually elbow macaroni, which is susceptible to sogginess. Instead choose a small, short pasta like fusilli or even penne. Dry pasta — not fresh or frozen (sorry, tortellini!) — will hold up much better to dressing, storage, and stirring.
Boil the pasta to al dente as recommended by the manufacturer in nicely salted water. Then drain and rinse, but don't "shock" the pasta as it tends to water log the pasta and rinse away flavor. Instead, have your pasta salad's dressing ready to go when the pasta is done and dress the salad soon after rinsing. The pasta will absorb more flavor this way.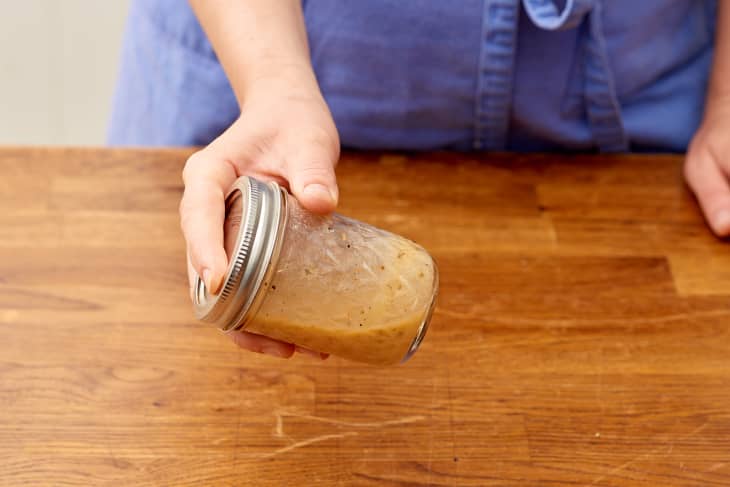 An Oil-Heavy Vinaigrette Creates a Creamy Texture
Have you ever heard the saying, fat is where the flavor's at? It is entirely true. Fat, be it oil or mayonnaise, is a vehicle for flavor. Instead of dressing your mayo-free salad with more vinegar or vegetables or herbs to get flavor from it, add more oil. Soft cheese helps, too (more on that below).
For this pasta salad, make a vinaigrette that is 50/50 acid for oil. Then coat the pasta with half of the vinaigrette. This half is going to be absorbed by the pasta and also seasons the vegetables. The second half should go on relatively close to serving so that the pasta doesn't absorb the oil and become simultaneously soggy and dry.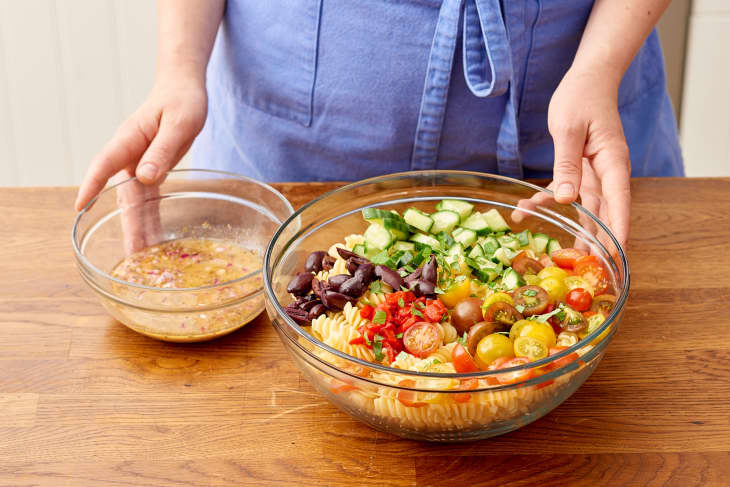 Adding Vegetables? You're Gonna Have to Cook Some
Raw vegetables are delicious, but in pasta salad raw vegetables can be jarring. After a bite of supple pasta, crunchy raw broccoli just doesn't jive. This isn't true of all vegetables — finely diced red onion, cucumbers, and tomatoes get a pass, but your pasta salad will be improved tenfold by either cooking the vegetables or using jarred vegetables.
Raw: cherry tomatoes, cucumber, finely diced red onion, sliced green onion
Jarred: roasted red peppers, pimento peppers, olives
Blanched: asparagus, green beans, peas, broccoli, cauliflower
Roasted: raw peppers of all shapes, sizes, and flavors
Pro tip: Do your diners a favor and chop the vegetables close to the same size as the pasta. This makes it easier to get a little bit of all the good stuff in each bite.
Additional Pasta Salad Flair
Herbs: Both dry and fresh herbs are welcome in pasta salad. Dry herbs do best in the vinaigrette and hold up well in advance. Fresh herbs should be added just before serving to avoid turning brown.
Soft cheese: Notice I didn't say "any cheese" here. Please skip the grated cheddar, the mozzarella pearls, or cubes of Swiss cheese. Instead, use a soft spreadable cheese, such as goat cheese or herbed Boursin, and work it into the salad. The rich creaminess will add more fat and more flavor in the absence of mayo.
Toasted nuts: Add nuts with caution, as they too can cause textural confusion. Something small or finely chopped works well. I'm particularly fond of toasted pine nuts and pepitas.
Pro tip: Be sure to taste and season the salad at different temperatures. You'll probably need more salt than you think if serving the salad cold.
You can cook the pasta, make the dressing, and prepare the vegetables well in advance, but wait until just before serving to add the second half of the salad dressing and any cheese and nuts. This not only prevents the salad from getting soggy and dry, but also helps the salad look prettier on the picnic plate.
Preparing Yorkshire pudding
This authentic caponata is somewhere between a stew and a salad. Sweet and sour aubergines mix with salty olives, capers and tangy tomatoes. Best eaten at room temperature or just warm, this is our dream lunch, served with crusty ciabatta.
Ingredients
4 medium aubergines, chopped into 2cm/1in cubes
salt and freshly ground black pepper
3-4 tbsp extra virgin olive oil, plus extra for drizzling
1 onion, chopped
2 celery sticks, chopped
400g tin chopped tomatoes
100g/3½oz green olives
3 tbsp capers, drained and chopped
2 tbsp red wine vinegar
1½ tbsp sugar, or to taste
handful flatleaf parsley, chopped
extra virgin olive oil, for drizzling
Method
Sprinkle the aubergines with salt and leave to drain in a colander for 30 minutes.

Heat some of the olive oil in a large frying pan and brown the aubergine on a moderate heat for 10 minutes. When softened and browned, set aside. You may have to do this in batches.

Heat the remaining olive oil in the pan and gently fry the onion and the celery until softened and transluscent, but not browned. Add the tomatoes, olives and capers, season with salt and freshly ground black pepper, and cook for 20 minutes until the mixture has thickened.

In a separate bowl, mix together the red wine vinegar and sugar. Add this to the pan with the aubergine and cook for 10 minutes. It is ready when the red wine vinegar has been absorbed.

Transfer the caponata to a large bowl, add the chopped parsley and mix well. Drizzle with extra virgin olive oil to serve. Serve hot or at room temperature.